Hi Dojo readers,
If you follow me on Facebook or Twitter, you may have noticed my posts about Frank's Fight (#FranksFight). You might have asked, "What's that all about? Who is Frank and what is he fighting??"
I'm glad you asked! Here's a recap…
A few months ago, some members of The Underground (or UG for short; a leading MMA forum) decided to create a t-shirt design honoring one of the more "creative" contributing members of the site who goes by the name "SuperCalo" and whose profile pic features an obscure wrestler by the same name doing a sign with his hand that is basically like the UG's secret handshake. SuperCalo is renowned on the UG for his amazingly ridiculous comments and his subtle ability to successfully troll other members into believing all manner of things. He's also a cryptic character whose identity and ethnicity are largely unknown (and highly speculated upon). Thus, the design would embody the "Who is SuperCalo??" concept and feature the UG's web address. It would be something of an inside joke and the ultimate goal was to see if we could get a famous MMA personality or fighter to wear it.
A number of UFC fighters are UG members and one of them, Heavyweight fighter and coach of the current season of "The Ultimate Fighter" on FX, Shane Carwin, said he'd wear the shirt on the set. So a few of us set out to make it happen.
One member came up with the idea, another came up with the design, and I offered to host the shirt sales in Disciple Dojo's Zazzle store (in both light and dark colored versions). The only question that remained was "what do we do with any proceeds from sales?"
SuperCalo himself suggested that we donate any proceeds to another UG member whose screen name was NKTKDace (or "Dace" for short). Dace had been diagnosed for the second time with testicular cancer and was not doing well. You can read Dace's story HERE. Dace's real name is Frank Edge and he and his wife Wendy had started a donation page called "Franks Fight" in order to help raise money for his ongoing cancer treatment, as well as a YouCaring.com page where people can donate: http://www.youcaring.com/fundraiser_details?url=franksfight&fundraiser_id=5912#.UAcUWaiJo48.facebook
So the shirts were created, one was shipped to Shane Carwin, and he tweeted the following pic from the set of TUF which was filming at the time: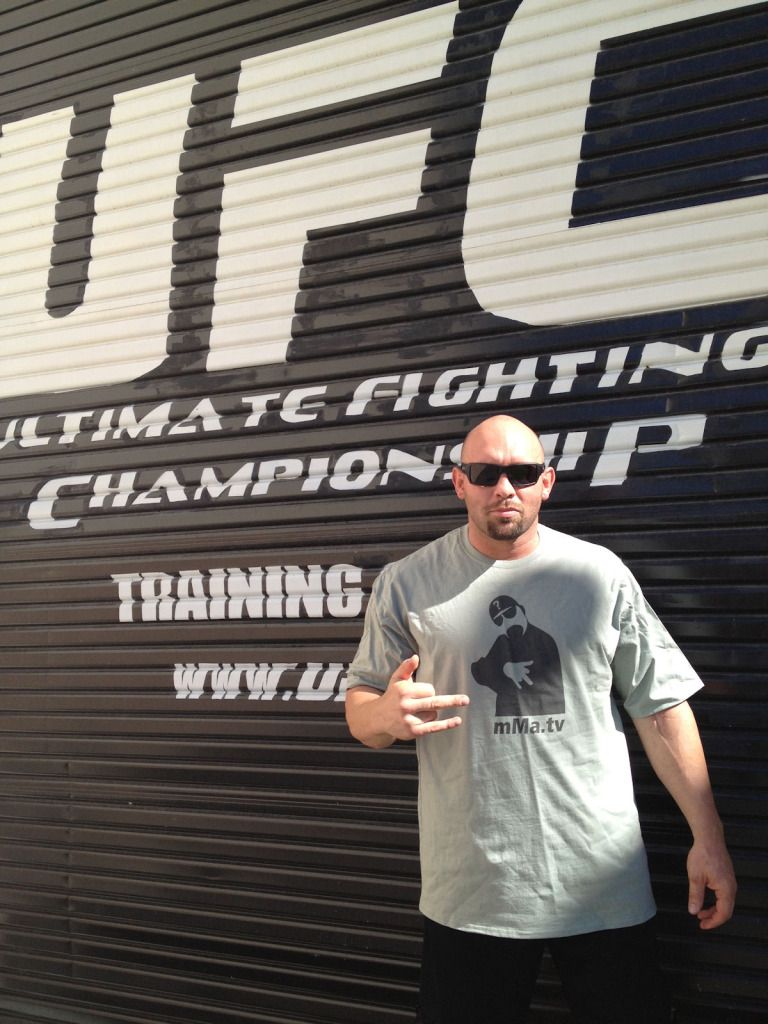 Other members started buying shirts (we've sold about 40 or so to date) and as the royalty payments have come to Disciple Dojo each month, we've donated that amount to Franks Fight.
Then, last week, another UG member decided to host a contest where he'd invite people to get pictures of fighters either wearing the shirt or holding pictures with a note encouraging Frank. He would choose the top 5 submissions and buy each of those members a Calo UG shirt.
This idea caught on and soon UG members took to Twitter to try and get fighters to post pics of themselves with notes of encouragement to Frank. We may not be able to help Frank's physical condition (that's up to God and the doctors), but we wanted to do something to life the spirits of a fellow MMA fan who was going through some incredibly dark days; and seeing a bunch of fighters and MMA personalities encouraging him would absolutely put a smile on his face!
The very first day, the response was incredible!
[Note: if you do not follow MMA, many of these people will be unfamiliar to you. But MMA fans will certainly recognize how impressive this is!]
Tim Kennedy was the first to respond…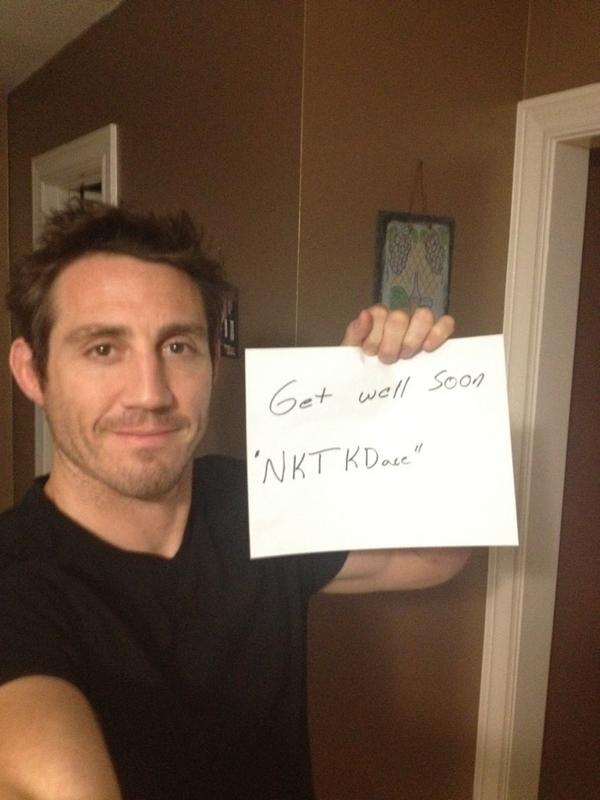 Then Chris Camozzi posted a pic…

Next came the Mexicutioner Joey Beltran…

Then the lovely Julie Kedzie and Michelle "Karate Hottie" Waterson…

Then came Li'l Evil Jens Pulver…

Next up was Stipe Miocic…

Then Uncle Creepy Ian McCall…

Urijah Faber joined in next…

As did Diego Sanchez…

Gray Maynard joined in…

Followed by Duane Bang Ludwig…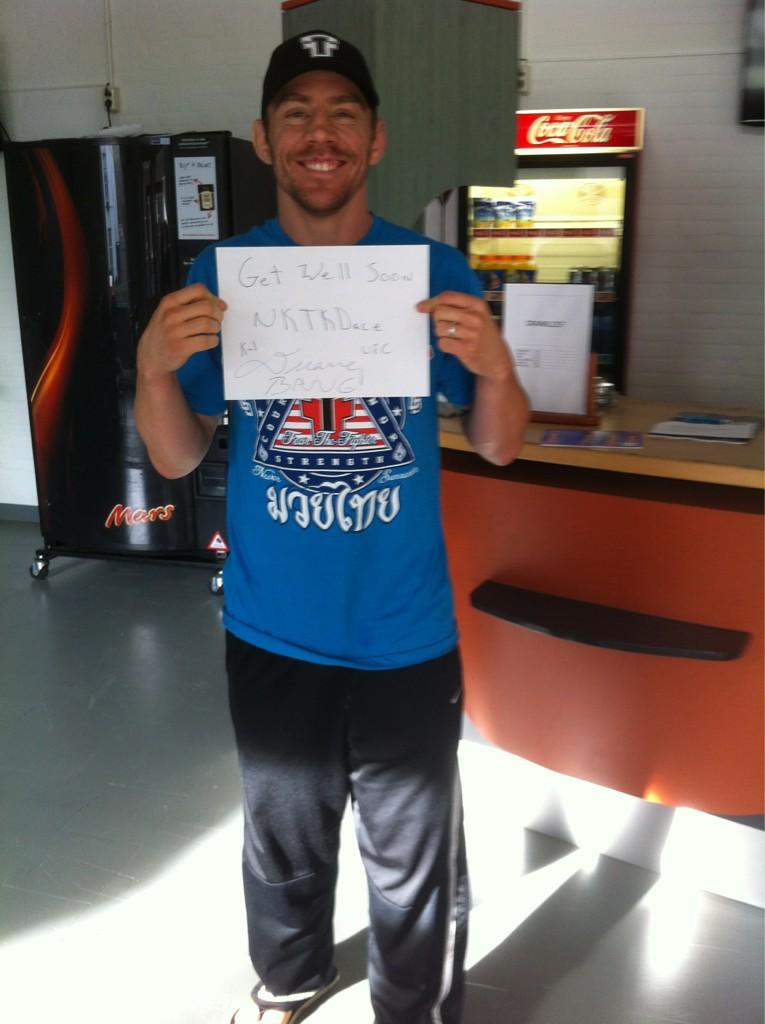 And then Pat Barry posted 2 pics!

Carlos Condit contributed…

Followed by 27-time-Mundial-Champion Renato Laranja…

Strikeforce commentator Mauro Renallo posted too…

Amir Sadollah…

Cung Le…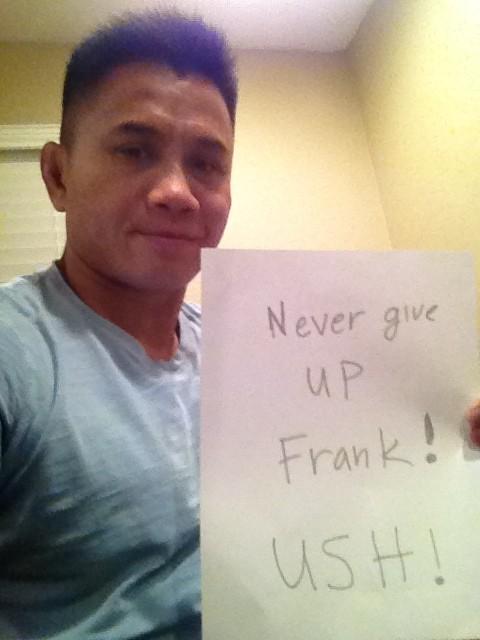 El Guapo, Bas Rutten!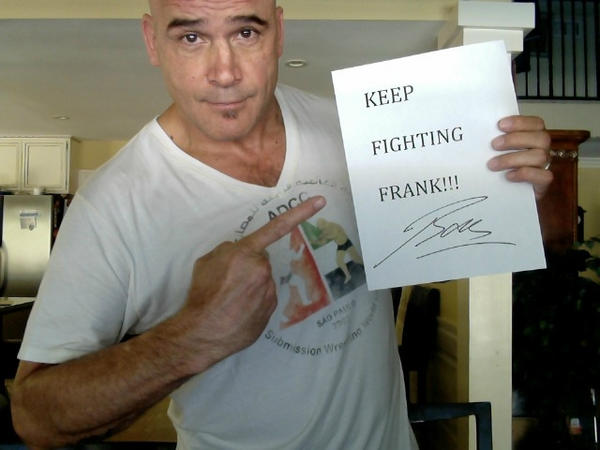 As more and more responses began coming in, we decided to create the hashtag #FranksFight so that people could follow along with who was posting and so that it would have a better chance at going viral.
We began Tweeting things like the following to every fighter, promoter, commentator, trainer or anyone else involved in the sport:
"@______ can u post a pic w/ a note saying "Keep Fighting Frank!" for a fan w/ cancer? Would mean so much to him! #FranksFight"
In just 2 days we found out from Frank's wife Wendy that there were over 75 responses from various fighters and MMA personalities! She has been compiling them in an album on the Frank's Fight page on Facebook.
Our goal is to continue raising awareness of Frank's Fight within the MMA community and beyond and to help Frank and Wendy reach their goal of raising $5,000 to help with their bills.
Why?
Isn't Disciple Dojo a discipleship ministry that focuses on teaching and equipping people about spiritual issues?
Absolutely.
And there is nothing more indicative of living a life of true discipleship to Jesus than acting on behalf of those in need. As Jesus' own brother Jacob ("James") put it:
"Suppose a brother or sister is without clothes and daily food.If one of you says to him, "Go, I wish you well; keep warm and well fed," but does nothing about his physical needs, what good is it?In the same way, faith by itself, if it is not accompanied by action, is dead."  -James 2:15-17
So Disciple Dojo is helping in whatever small way we can to support, encourage and provide for Frank and Wendy during this time of need.
\
How can you support Frank's Fight, Dojo reader?
I'm glad you asked!
Here's how you can help:
Donate whatever amount you are able to Frank's bills directly HERE.
"Like" the Frank's Fight page on Facebook HERE and share it on your FB status, Twitter feed or blog.
Send Frank and Wendy encouraging notes on Twitter. Their handles are @Frank_Edge and @Luvdcuties
Tweet a note to any celebrity (MMA or otherwise) you know or follow asking them to post a pic holding up a note that says "Keep fighting Frank!" and use the hashtag #FranksFight
Pray for Frank, his family and his doctors, that the cancer be eradicated from his body.
Lastly, many of you remember reading about my trip up to Renzo Gracie Academy this past Summer and how I was able to get Renzo to sign the original portrait I did of him…
Well, I'm hoping to auction it off. Half the proceeds will go to Frank's Fight. The other half will go to continue funding Disciple Dojo. Here is the link where you can bid on this one-of-a-kind artwork (no prints will be made of this piece!):
http://www.ebay.com/itm/AUTOGRAPHED-Renzo-Gracieportrait-for-FranksFight-by-JM-Smith-/120989197785?pt=Art_Paintings&hash=item1c2b84a5d9
*SOLD! WOO-HOO!!*
In addition to this, a portion of any prints sold from my gallery (which you can see HERE) will be donated to Frank's Fight upon request. Normally I donate a portion to IJM, but if anyone includes a note at checkout saying "for Frank's Fight", that portion will be donated to Frank's Fight.
Thanks for taking the time to read about a great guy and his fight with one of life's most hated enemies. We all know people who have gone through the pain of this terrible disease. Here's your chance to help one of them specifically in his.
Thanks to everyone from the UG, Twitter, and the MMA community who's rallied around Frank. Remember, all it takes for something to go viral is for people to simply tweet, share, "like" or repost it.
#FranksFight
Blessings from the Dojo,
JM